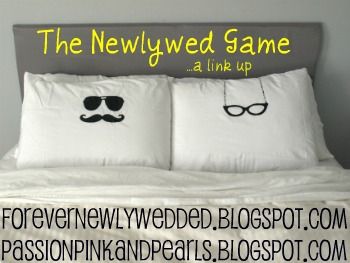 If you'd like to link up, simply...

1. Follow both the HOST & the CO-HOST!
2. Post the button above to your post.
3. Post the questions & your answers.
4. Add your link to the bottom of the post where it asks for your link.
5. Have fun checking out everyone else's answers!
You can link up anytime from now til Sunday at midnight EST!
I'm excited to see your answers!
1. How long were you dating your spouse before getting engaged?
Karla:

7 months.

I was… shocked!

But, happy as ever!
2. Do you remember your first big fight, if so, what was it about?
Karla:

Yep.

He went out with his friends & came home a complete mess, that I dealt with ALL night.

It was horrible & I choose to forget it!
Scott: I have no memory of that night, but I ended up cleaning the bathroom the next day to make things up to her.
3. Who said "I love you" first?
Karla:

Scott did!

Another shocker.

That is how I knew he was a keeper.

It's usually me that says it first.
4. What is your spouse most afraid of?
Karla:

Scott doesn't really have any fears, which is great because I do!
Scott:

Karla is afraid of everything.
(Thanks, Scott)
5. Who uses more hair-care products?
Scott:

What are hair-care products?
6. Who initiated the first kiss? How was it on a scale from 1-10?
Karla:

Scott did!

It was in front of one of our friends, and I hated PDA at the time, so I was super embarrassed, but besides that, it was awesome.

I'd give it a 9.
Scott:

I did, and it was awesome.

10- because it was a ballsy move in front of one of our friends.
7. You are on your way out, and need to turn around because someone forgot something... was it you or your spouse who most likely forgot something?
Karla: This rarely happens, but when it does, it's usually because of me!
Scott:

That would be Karla.
8. Who takes longer in front of the mirror? You or your spouse?
Scott:

I don't even look in the mirror.
9. What would your spouse name your children if you had one girl & one boy?
Karla:

If Scott named our kids… the girl's name would be: Hey you!

and the boy's name would probably be Scott Jr.
Scott:

Girl: Kennedie/Harper

Boy: Mason/Landon
( I guess we must talk about this a lot)
10. If you were able to give away one thing that your spouse owned, what would you choose?
Karla:

The only thing I can think of is this old nasty hoodie that he has that reaks of car oil no matter how many times I wash it.
Scott:

Her entire wardrobe because it's too big…and half of it ends up on the floor.
( lies..)
Here are next weeks questions!!
one: In your opinion, who has the better in-laws? You, or your spouse?
two: Who decided on the wedding song for your first dance? What was it?
three: Which song would you say is your spouse's theme song & why?
four: What is the first thing your spouse takes off when they come home from work?
five: Fill in the blank. When it comes to ______ , I definitely wear the pants in this relationship, but when it comes to _______ , my spouse definitely wears the pants.
six: What is one thing you could do that would make your spouse the happiest person in the world?
seven: What is the most unusual thing you ever found in your spouse's pocket/purse?
eight: In your opinion, does your spouse communicate better with talking, touching, or eye contact?
nine: What would your spouse ideally want your current/future children to do for a living?
ten: Keeping this as PG as possible... if you were blindfolded, and need to pick your spouse out of a crowd, what would you search for?